Materials
Outer Fabric
We use tough waterproof 1000 Denier Nylon Canvas to construct every Slip Cover and Gig Bag. It comes with a polyurethane coating on the inside that prevents tears and fraying.  Other manufacturers use Polyester or 400 Denier Nylon fabric that is half the strength and toughness as our 1000 Denier Nylon.  You can't make quality covers and bags without quality fabric. 
We have two timeless colors to choose from – Classic Black or Classy Brown.

Inner Fabric
For our padded covers and gig bags, we use a polyester fiber fill padding that is quilted to a soft and smooth 200 Denier black nylon lining (guaranteed not to bleed color) and we sew it by hand to our 1000 Denier exterior fabric. We have not seen any deterioration in our padding since we started making covers way back in 1992, unlike foam padding which can disintegrate and wreak havoc on sensitive electronics in just a few years. Our padding feels more like a glorified plush moving blanket and folds up easily to store away when not in use.
Our Padding Options Are:
Single Padding – Standard – 3/8″ thick (home use, studio use, weekend gigs)
Double Padding – Extra Protection – 5/8″ thick (touring use, vintage/pricey amp protection, rugged use)
No Padding – Dust Covers (storage use, sun protection, light use)
The photo shows the difference between single padding and double padding and the inner 200D quilted nylon fabric.  The single padding is approximately 3/8″ thick (a little less than a centimeter) and the double padding is approximately 5/8″ (about 1 1/2 centimeters).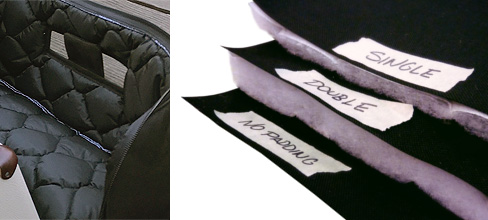 Handle Options
Reinforced Handle Openings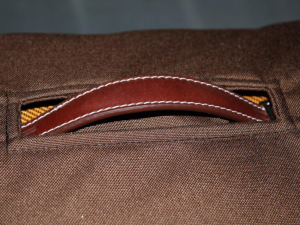 This is the most common handle option and is often the best way to carry your gear. Most amplifiers and speaker cabinets have handles and the reinforced handle opening allows access to those handle while transporting your equipment with the cover or gig bag on. All openings are heavily reinforced so they will not fray or come apart like common simple bound handle openings. Choose this option for slipcovers or clamshell gig bag that you want to carry by it's own handle(s). A single handle opening is included in the price and the cost of $5 for each additional opening. Some amps have a single top handle like a vinyl strap handle or leather dog bone handle, while others have recessed handles on the top or sides. Some amps have a combination of both. Choose the the number of reinforced openings for the handles that you want access to.
Duffle Style Strap Handles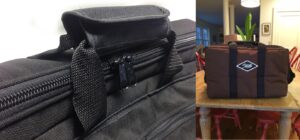 This option is only available on clamshell gig bags. Sturdy nylon webbing that wraps around the bottom of the bag and comes together at the top with a Velcro cushioned grip, like a duffle bag. These handles are strong and can carry 100+lbs (45kg). This is the best option for those who want a fully enclosed gig bag or need to carry items that don't have handles such as keyboards and pedalboards. We keep the height of the handle low and close to the unit for more control and to keep it from swinging.
Molded Plastic Handle Sewn-on Top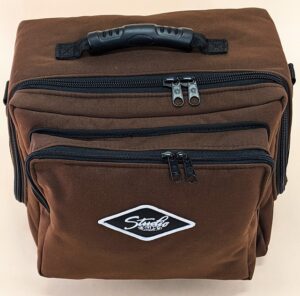 Clamshell gig bag option for items under 20lbs (9kg). These handles are a great option for those who want a fully enclosed bag or need to carry smaller light weight items that don't have handles such as midi controllers or small pre amps.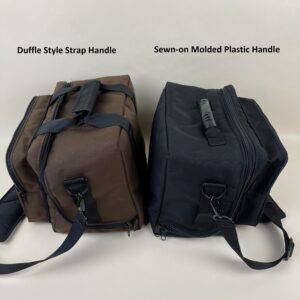 For more weight than 20lbs, it's recommended that you use the Duffel Style Straps because they wrap around the bag and keep the weight evenly distributed and off the zipper.
No Handle
This option is for dust covers, keyboard slipcovers, or small pedal pouches where you're not carrying or moving the unit while covered or it is small enough to carry in your hand.

Pockets
Standard Pockets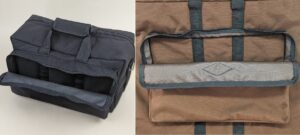 For additional storage space, we can add an external zippered pocket.  Our standard pocket is non-padded and 2″ deep.  It has a double zipper that opens the top half of the pocket and a 2″ gusset along the bottom.  We have lots of different sizes and tend to put the largest sized pocket that will fit on your equipment up to 12″ x 18″.
Padded Pockets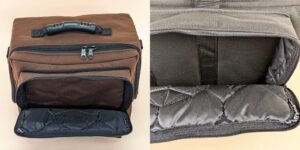 If you plan on housing sensitive items like footswitches, pedals, tuners, etc., a padded pocket is probably the best option.  Our padded pockets come with our single padding (3/8″ thick) including the zipper panel and the gussets.  Also comes with the double zipper that opens the top half of the pocket.    
Custom Pockets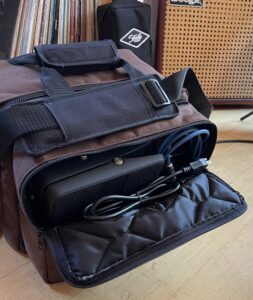 Yes!  We can make custom sizes.  If you have a large expression pedal which requires a 3″ deep pocket or have a small bass head and want to keep it in a pocket with the cab, just send us the internal dimensions that are required in an email and we'll give you the price to add to your order.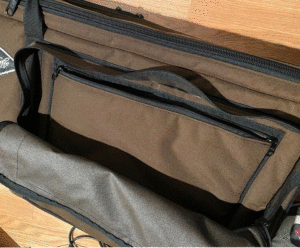 We also make custom pockets that have sewn loops for keyboard or steel guitar legs, great for your portable piano.                                       
We can make flat pockets with a single zipper for papers or thin cables.  If you are concerned with the level of protection from a soft cover, a flat pocket can be added to the front or back and you can add thin plywood or plexiglass for added protection. We can make a flat pocket on the outside of a standard pocket.  We can even put a padded flat pocket inside a regular pocket for your tablet.  The possibilities are endless!                                                                                                       
Leather Strips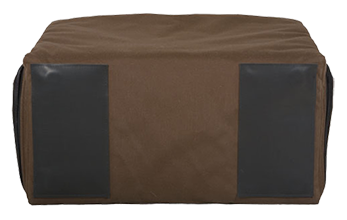 For Clamshell Gig Bags – 
Want the ultimate level of protection and Rockstar looks.  We can reinforce the bottom of your bag with heavy duty American leather.  The strips are 1/8″ thick, 5″ wide, and run from front to back on both sides of the bottom of the bag, usually under the feet of your gear. We can add leather on the back of your gig bag as well, just reach out to find out custom pricing.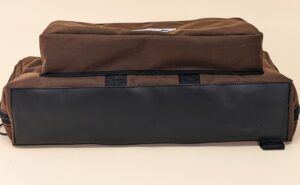 A full leather bottom is available on smaller gig bags like a pedalboard or keyboard bag.  Full leather bottom pricing is dependent on the size of the bag. 
Shoulder Strap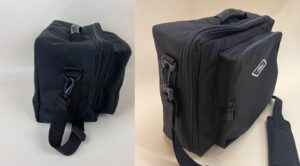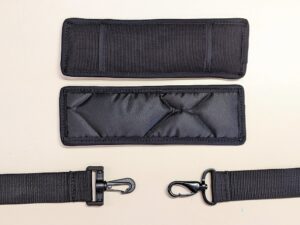 For Clamshell Gig Bags –
Add a removable shoulder strap to your gig bag for an easy, hands-free carrying option. Great option for pedalboards, controllers, keyboards, heads and small to medium combos and cabs. Our shoulder straps come with a an adjustable length web strap and padded shoulder pad for comfort. Choose between
Plastic
or
Forged Metal
hardware. The plastic hardware can carry lightweight items up to 25lbs (11kg). The forged metal clips and metal D-Rings can carry up to 75lbs (34kg). We also offer 'Metal D-Rings Only' as an option if you have your own clip-able shoulder strap at home.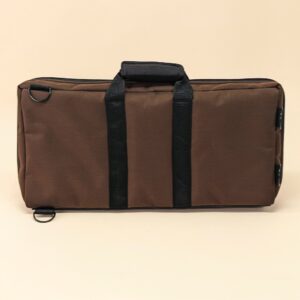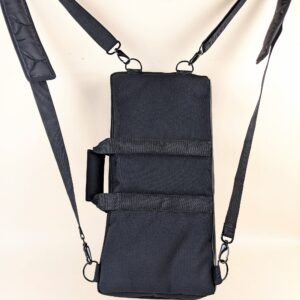 We also offer 4 D-Rings to be sewn strategically to the back of a gig bag and longer clip-on straps that together, function as our version of
backpack straps
. These come with longer cushioned pads and turn any gig bag into a backpack. It works especially well for pedalboards and large foot controllers. Send us an email for more information and how to order.
Molded Plastic Handles
Sewn-on Top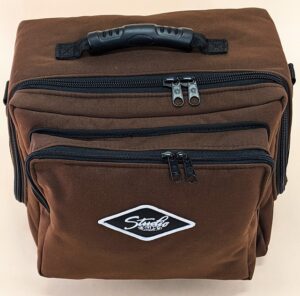 A molded plastic handle is great as a primary handle if your gear is 20lbs (9 kg) or less. It has ergonomically molded for comfort and has grooves that allow for air flow so you hand doesn't get sweaty. For more weight than 20lbs, it's recommended that you use the Duffel Style Strap handle that wraps around the bag and keeps the weight off the zipper instead.
Extra Sewn-on Handles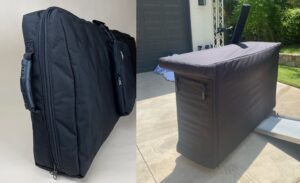 Sometimes it's nice to have an extra handle or two on your Gig Bag. Especially for long items like keyboards. They are also helpful on large slipcovers for speaker stacks and DJ tables with wheels. The handles can carry weights up to 75lbs (35 kg) but do let us know if your gear is over 60lbs (27 kg) so we can add proper reinforcement.
Caster Openings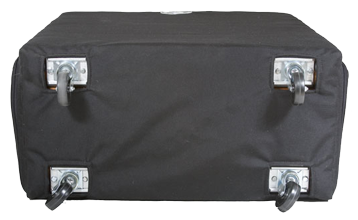 For Clamshell Gig Bags –
  Reinforced caster openings are available for $45.  Please
email
us to request a template to measure your casters or wheels. These openings are made just like our handle openings, with super sturdy double reinforcement that won't come apart or fray with heavy use. Just roll your 4×12 Cab onto the gig bag, line up the wheels with the openings and zip it up and away you go. 
Handle Flaps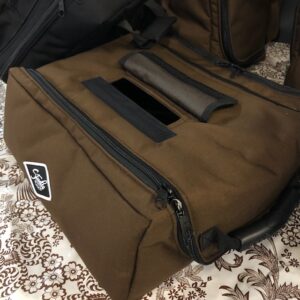 Protect your gear from the elements with a handle flap that covers the handle opening – available for $10 each.  You can add them to the cart as 'Custom Work Discussed with Studio Slips -$10' and be sure to put a note in the "Additional Information" text box after you click on the checkout button. These can be on any handle opening whether on the top or the sides.  It a simple non-padded flap sewn-on one side and has Velcro on the other.

Manufacturer's Embroidered Logo
We work closely with and have been trusted by a number of awesome manufacturers who have given us permission to make their logo available to our customers. You can add it to your Slipcover or Clamshell Gig Bag for some extra swag. We add a small Studio Slips T-Shirt tag to the inside of the cover or gig bag so you'll always know where it came from. If you're a manufacturer and are interested in us protecting your gear, send us an email with your artwork and we'll make it happen!
Current List of Available Manufacturers Logos: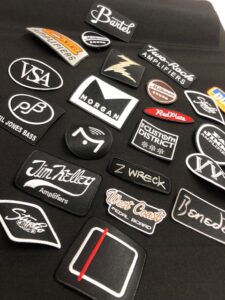 | | | |
| --- | --- | --- |
| Bartel Amps | Henriksen | PSI Audio |
| Benedetto | Jim Kelley | RedPlate |
| Carr | Milkman Sound | Supro |
| Dr. Z | Mission Engineering | Two Rock |
| Dusky | Morgan Amps | Vintage Sound |
| Fat Jimmy | pHamps | West Coast Pedal Boards |
| Fuchs Audio | Phil Jones Bass |   |
Clear Vinyl ID Window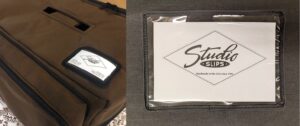 Do you have too many Amps and too many Studio Slips covering those Amps? A great way to tell them apart is with our Clear Vinyl ID Window. Our standard ID window is business card sized 3″ x 4-1/2″ (7.5cm x11.5cm).  We can make custom sizes including half or full sheet paper sizes.  Put your business card or make your own logo card. The vinyl is bound on all sides for a professional look and sewn on three side so you can easily slide your card in. Standard placement is on top, below a top handle but please let us know if you'd like it to be placed in a unique location.
Custom Work Discussed with Studio Slips??
This is something that a customer already knows he or she wants and we have previously either spoken by phone or by email and given a price and instructions on how to order that custom work.
Embroidery and Screen Printing
Have your name, band logo, company logo, or custom artwork embroidered or screen printed on your Slipcover or Clamshell to really make it your own.  Pricing depends on font, size, and thread color. For custom artwork, a one time digitizing fee may apply. Please note that this is custom work that can add to the lead time of your order. 
Embroidery


Screen Printing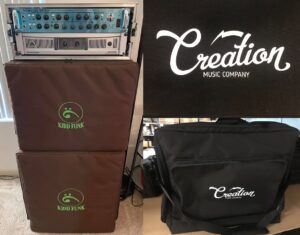 Custom Screen Printing on multiple pieces is a great option as well. 
What People Are Saying
"
Bag is just great. I finally got to use it for a gig and it worked out perfectly. The pocket on top is real nice because it holds a lot of the accessories I need and I don?t have to carry another bag for that stuff.
"
"
Hello from Texas, I recieved the padded slip today and all I can say is WOW! It fit perfect and looks great. Thanks again. Flawless workmanship. I love it. We finally cooled off here in the Panhandle even got a little rain.. Had a couple friends over and they like the slip better than my amp. What else can I say.
"
"
Wanted to let you know, once again, what a fantastic job you did with my custom bag!!!! Everything fits perfectly, and your craft remains best-of-the-best!!! I?m really thankful you are out there working as you do!! Look forward to needing something else in the future?.
"
"
The cover for my amp arrived this week. It fits perfectly snug and the quality of materials and construction is everything I had hoped. Now I know Studio Slips is legendary for a reason? Thank you for a great product!
"
"
Just wanted to let you know that the amp cover arrived and it fits perfectly.
"