Let's face it; unless you've got a roadie, your gear weighs enough without the ATA case.
Since it's a bag, and not just a slipcover, the Clamshell Gig Bag protects your gear completely: top, sides and bottom with an opening for the handle(s). Our handle openings are reinforced so they will never fray or come apart like the more commonly bound openings.
Our revolutionary design makes putting heavy equipment into a soft bag incredibly easy because the bag opens flat and the fit is always perfect. The Clamshell can be made in most any shape.
Studio Slips Clamshell Gig Bags are made with tough water resistant 1000 Denier nylon canvas (Cordura) on the outside and thick quilted padding on the inside to cushion and protect your gear from bumps, scratches and weather. We use heavy duty top quality zippers that glide open and closed and super strong nylon thread to hold it all together.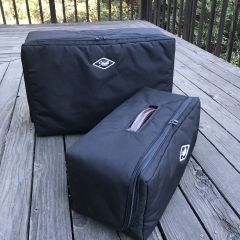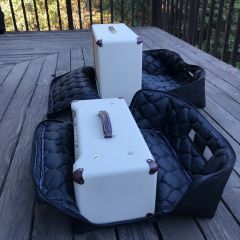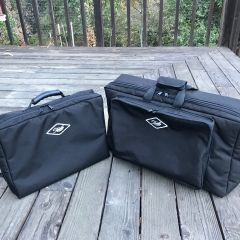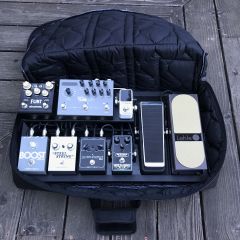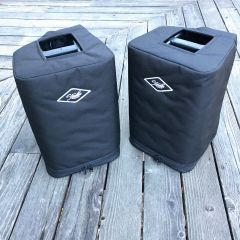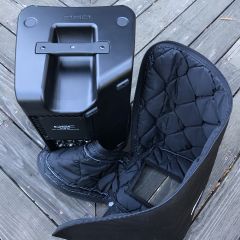 Choose between our super reinforced handle opening(s)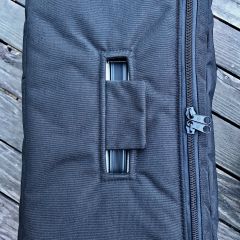 Handle opening (strap handle)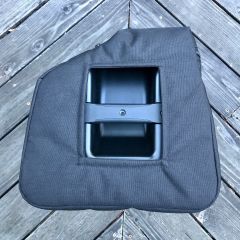 Handle opening (recessed opening)
Wrap-around webbing strap handles with a grip, like a duffel bag (formally known as the Briefcase Gig Bag)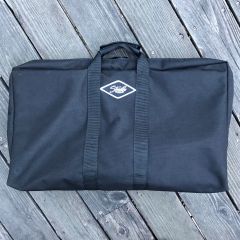 Wrap-around handles Board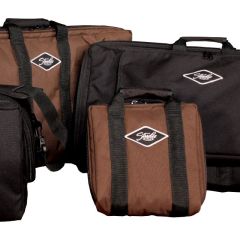 Wrap-around handles Rectangular cabinet
Or, sewn-on molded plastic handle (see weight restrictions below)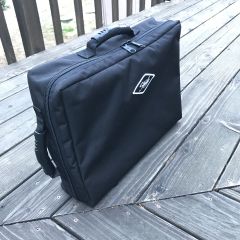 Molded Plastic top** and side*** handles
** Top molded plastic handle weight limit 15 pounds (38 kg) due to the strain on the zipper.  Please choose the Wrap-around webbing handles for anything over 15 pounds.
*** Side molded plastic handles do not put strain on the zipper and can handle a much greater weight.  While they can handle up to 75 pounds (165 kg) for maneuvering in and out of a vehicle or onto a cart, we recommend the wrap-around webbing strap handles to carry the load.
You can add leather strips for extra protection on the bottom of the bag, a shoulder strap with shoulder pad and even Caster Openings to roll your gear on wheels into the bag. And of course, you can add a pocket to carry a foot switch, extra cords, or a clean tee shirt.
Custom made in the USA.
* Please note: We will send dimensions to you when we receive your order so you can double check that the correct model was ordered and that the dimensions we have match your model.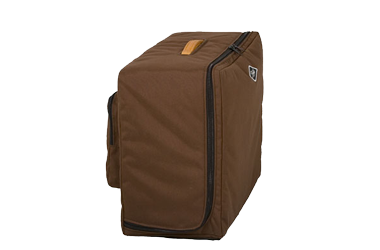 Optional Extras Available
What People Are Saying
"
My order was delivered Friday afternoon and when I got home that night, opening the box was like opening a present on Christmas Eve. The clamshell bag for the Motion Sound amp and the gig bags for the keyboard and synthesizer fit like a glove. Very impressed by the quality and workmanship! It looks like I won't be replacing these bags anytime soon.
"
"
I got the bag today and it's perfect! Exactly what I had in mind. Totally awesome! Got a gig tomorrow night and can't wait to use it. And I'll recommend you to anyone and everyone. Thanks a bunch.
"
"
Susan: I got the Budda cover today. As always, the fit was perfect and the quality outstanding. The covers look so good I wish I could use my stage rig without taking them off!!
"
"
I received the amp cover today and was very pleasantly surprised! The material was much tougher than I thought it would be from the pictures and the foam was nice and thick, as well. It fit absolutely perfectly and everything lined up where it should. If only you made clothes! Thanks for the great job and my amp thanks you, too...
"
"
I just received the Clamshell Gig Bag for my SDG Little Blondie and I am absolutely floored!!! I don't impress easily, but this amp cover is just gorgeous and is the perfect accessory for my cherished amp. The quality is beyond compare and it vastly exceeds any expectations I had. At first glance, you can just tell that this cover is ready for war. I'm glad to see that your company logo is stitched on the front as I look forward to spreading the word and making it known where I purchased such a fab product! Rest assured, I'll be back again, and again. Thanks a million, Studio Slips.
"