Padding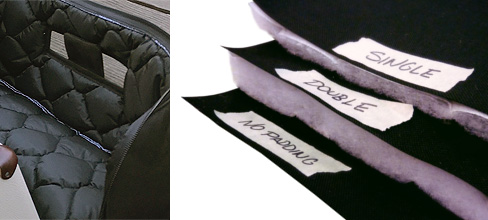 We use a polyester fiber
fill which is quilted to soft yet tough black nylon lining (guaranteed not to bleed color). We have not seen any deterioration in our padding since we started making covers in 1992, unlike foam padding which can disintegrate in time. The photo shows the difference between single and double. The single is approximately 3/8″ thick (a little less than a centimeter) and the double padding is approximately 5/8″ (about 1 1/2 centimeters). Our padding feels more like a glorified moving blanket and folds up easily to store away.
Duffel/Briefcase Style Wrap-Around Handles (for Clamshell Gig Bag)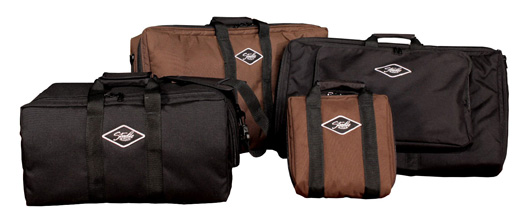 Webbing strapping wraps
all the way around the bag to keep the weight off of the zipper. Two handles come together at the top with a Velcro grip (like a duffel bag). Can handle heavy weights up to 75# (34 kg). Let us know if your gear weighs more than 75# and we can discuss ways to possibly accommodate. (Formally known as the Briefcase Gig Bag)
Molded Plastic Handle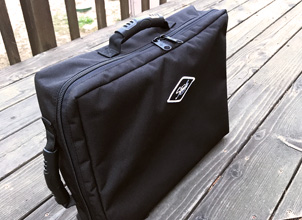 As a primary handle (on top when you're carrying your gig bag), the molded plastic handle is great if your gear is 20# (9 kg) or less. For more weight than that, there's concern that the weight will put stress on the zipper and it's recommended that you use the Duffel / Briefcase Style Wrap-Around handles instead.
Sometimes it's nice to have an extra handle or two on your Gig Bag. They can handle weights up to 75# (35 kg) but do let us know if your gear is over 60# (27 kg) so we are sure to add reinforcement.
Caster Openings on Clamshell Gig Bag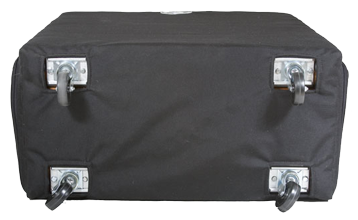 Reinforced caster openings
 are available for $35. Please
email
to request a template to measure your casters or wheels.
Custom Work Discussed with Studio Slips??
This is something that a customer already knows he or she wants and we have previously either spoken by phone or by email and given a price and instructions on how to order that custom work.
What People Are Saying
"
I received my clamshell for my Carr Viceroy and just wanted to say thank you so much! It fits like a glove and instantly took my worry out of accidentally bumping my $2,800 amp up against something.
"
"
Susan, I wanted to let you know that I received the Studio Slips "Padded Slip Cover" for my Ultrasound Pro250 today. I believe that you indicated that this was the first time that you made a cover for an Ultrasound Pro250. You would never know it. It fits absolutely perfectly. I am impressed. I almost went with a Tuki Cover. I'm so glad that I chose Studio Slips. From the detailed measurements that you require through your well organized website and from our communications before you began the manufacturing process, I had an instinct that you would do quality work and I was correct. It is clearly evident that both the materials and workmanship are absolutely first rate in every respect. I wanted let you know how pleased I am with my Studio Slips cover and I want to thank you very much. It's really nice when everything goes right. Thanks again!
"
"
This is our 2nd Studio Slip. You guys are 2 for 2. This cover fits like a well tailored suit. Thanks for your patience and superb craftsmanship!
"
"
My clam shell covers came today for my Port City Pearl and my 1x12 OS Wave cab. They fit like a glove! Awesome, thanks!!! Well worth the wait.
"
"
I received my Sewell Blistertone 35 & Marshall Haze 40 covers, awesome! Excellent workmanship, I'll highly recommend your company. I've a couple more for you in near future. Thanks,
"